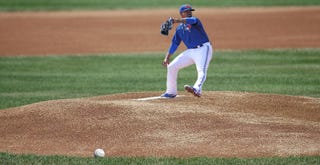 Last night, 23-year-old rookie pitcher Marcus Stroman took the mound against the Red Sox. Making only his 11th career start, Stroman gave up a single run over 7 strong innings of work, with 2 walks and 8 strikeouts, to pick up the win.
Then again, maybe Stroman just had Boston's number. 5 days earlier he'd also faced Boston, and took a no-hitter into the 7th inning. He eventually gave up a bloop single, but it was the only hit the Red Sox managed against him over 7 shutout innings.
Five days before that, it was another dominant shutout start, this time against Texas: 7 innings, 4 hits, zero runs, zero walks.
If you're keeping track: in his last 21 innings pitched, he's only given up a single run. His ERA as a starter sits at 2.12. Against AL East opponents, he's 3-1 with a 1.40 ERA, keeping division opponents to a .159 average. And yet, it seems like Marcus Stroman is still flying under the radar. (Then again, at his height, a lot of things probably fly over him.) He rightfully deserves a place in the Rookie of the Year conversation, or at least he would, in a year that didn't feature Abreu or Tanaka.
Jays fans have expected big things from Stroman for a while, but no one expected a breakout this soon. After all, he's an undersized rookie only a year removed from double-A, he was only called up as emergency bullpen depth, and his birth year of 1991 just makes you mutter " fuck, I'm old" under your breath.
Suddenly, in a cutthroat playoff race, the entire playoff hopes of Toronto - nay, of Canada! - may now rest on this rookie's shoulders.
Here's what you need to know about Marcus Stroman.
He's short.
Stroman's listed at 5'9, but even that seems generous once you see him standing next to full-sized, non-Jose Altuve MLB players. Like here, jumping into a teammate's big bear-arms, or here next to rookie teammate Aaron Sanchez, and a woman who appears to have no ribs. When you see him on the field, he looks like a little leaguer who got lost on a stadium tour.
He's one of the shortest pitchers in the league at the moment. His actual height is probably around 5'7 (a 2012 draft scouting report puts him at 5'6), which would put him in the company of diminutive Royals reliever Tim Collins and a mere nine other pitchers 5'7 or shorter to have pitched in the MLB in the past 50 years. The above-linked NY Times piece explains a few reasons why it's good to be tall if you're a pitcher - added leverage, increased angle, shorter pitching path. Even back in the 1960s, when MLB players on average were around an inch shorter, only a small handful of pitchers Stroman's size ever made it, and even fewer as starters.
Whenever a short guy has this much explosiveness in a small package, you start hearing phrases like "tenacious", "full of heart", "feisty" - words you'd use to describe a bulldog. Stroman's personal favourite cliche seems to be "height doesn't measure heart", his ubiquitous catchphrase on Twitter (or its abbreviated form, #HDMH, which he's trademarked.) It's true, Stroman is a feisty bulldog - but in his mind, he's a Great Dane.
It's a classic underdog story. Scouts never believed in him. Too short. His elbow would wear out from the strain of starting. The lower plane of his delivery would make it too easy for hitter to pick up on his pitches. Despite being a standout at Duke, holding the team record for strikeouts and being named as the most MLB-ready player in the 2012 draft class, he fell to 22nd overall where he was picked up by the Jays.
Two years later, he's starting to prove all of the naysaying scouts wrong. Stroman rocketed through every level of the Jays' system in no time - despite the setback of a 50-game suspension for mistakenly taking a workout supplement banned in the minors, something that he insists was an honest mistake - to find himself as not only the Jays' best prospect, but their best overall pitcher.
Stuff? Oh, he's got stuff.
Since he doesn't have big, gangly arms and legs to put a ton of leverage onto his pitches, Stroman releases the ball like an efficient, tightly-wound slingshot. Hardball Times breaks down his delivery piece by piece, marveling at the efficiency he can achieve to somehow make a baseball launch at 96 MPH from his tiny body. It's like watching a small, unassuming venus fly trap suddenly snap shot.
Not only does his fastball have big heat in the 95 MPH range, all of his pitches have movement on them - he can dip them right or left or throw a big, disappearing hook that drops off the face of the Earth, like a video game.
Here, I made a tidy little infographic showing the various pitches he uses (according to PitchF/X) with accompanying GIFs.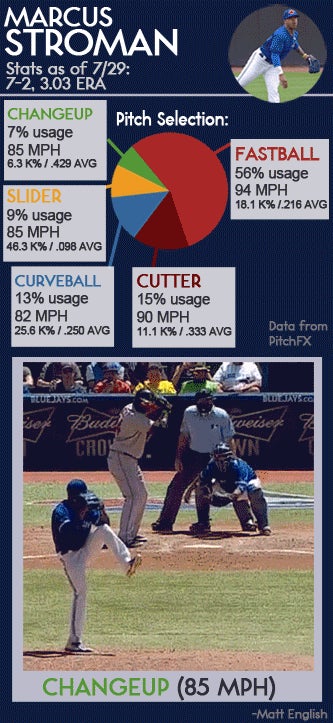 ---
His dad is gigantic, and also, might be insane.
Earl Stroman is a mountain that's vaguely shaped like a human.
Quoting directly from Arden Zwelling's excellent profile of Marcus for Sportsnet, which is required reading if you'd like to learn more:
When he was in the fifth grade in Medford, Long Island, Stroman's parents separated and his father, Earl, a Suffolk County detective, moved to a house about a mile away. Stroman already had a strained relationship with his father, who made him run parachute sprints up hills and push weighted sleds from the time he was six years old. Stroman hated it. Earl would make his son read the newspaper regularly and gave him reading comprehension tests based on what was in the news. If Stroman got any answers wrong he'd have to start over again. Sometimes, Earl would convene full-on living-room sparring contests between Stroman and his older sister, Sabria, when they were both in karate.
When Marcus got his signing bonus, he paid off his mom's mortgage.
It's pretty adorable.
Marcus Stroman is going to lead the Jays to the fucking playoffs.
[citation needed.]