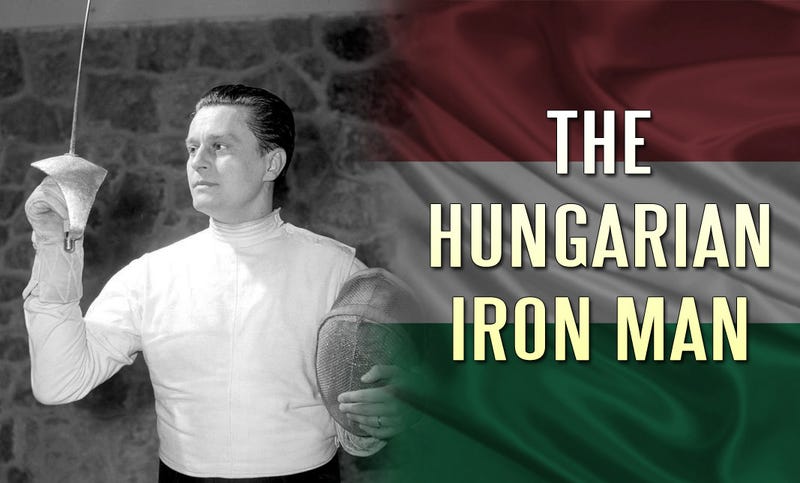 It seemed like a simple question: "Who won the most Olympic medals in the same event?" I saw someone ask the question on a forum years ago, and no one had ventured an answer. The question seems like such a basic bit of trivia fluff, the type of vaguely-interesting factoid you'd read in a Sports Illustrated For Kids "Did You Know" sidebar. And the answer was probably Michael Phelps, right? Didn't he win about eight dozen goddamn Olympic medals, before he became just another dope-smoking, giant-footed sandwich spokesman?
Then you think about what the question is really asking. In the same event. That's a whole other ballgame. It's one thing to rack up a pile of gold around your neck rivaling circa-1987 Mister T in a sport like swimming, where an exhaustive number of variations on the same basic premise take place at every Olympics. Congratulations, Michael, you're really fucking good at this one particular swimming stroke. Here are your gold medals for the 100m, 200m, 4x100m, 4x100m medley, and 4x200m variations of the exact same thing. If you made 20 different versions of basketball with slightly different court sizes and basket heights, I'm sure Lebron James would have a whole bunch of gold medals around his neck too.
But no. In the same event. It's not enough to be dominant within a short window, racking up every medal available to you in one magical Games. The cruel pacing of the Olympics every four years means that in many sports, it's hard to even repeat for a single time as champion. For some sports with tight windows of competitiveness, you might never even get your chance: if you were a top-ranked 15-year-old female gymnast still too young to make the London 2012 team, by the time Rio 2016 rolls around you'll be a washed-up 19-year-old with bad knees and lingering parent issues. (Tip for domineering parents who want to bully their daughters into a life of gymnastics: calculate whether it will be a Winter or Summer games by the time they're 17, and switch them into figure skating if needed.)
The original question, posed by an internet stranger, stuck with me for some reason. The most medals. Single event. As Google proved fruitless and my curiosity grew, I started to plow through Wikipedia medal tables from every Games, right back to the earliest days of the modern Olympiad, back when we had real sports, like tug-of-war. Surely it would have to be a sport where athletes can have a long competitive shelf life. Something like equestrian, or archery. Four medals in consecutive Olympics at the same event seemed possible, even though that represents a mind-boggling twelve years of elite-level dominance over your peers. But could anyone have more than four or five in a row, in the same exact event?
Allow me to introduce you to Aladár Gerevich.
Born in Jászberény, an agricultural town in central Hungary settled by nomadic Iranian tribes and rumored to be the burial place of Attila the Hun, Aladár Gerevich was a born swordsman. Hungary wasn't just a fencing powerhouse in the mid-20th century: the sport was engrained in the fibers of Hungarian culture. What sumo was to Japan, or rugby was to New Zealand, fencing was to Hungary. At the tender age of 22, Gerevich made the Hungarian national sabre team, traveling to Los Angeles for the 1932 games.
A note on fencing swords, if you're not terribly familiar with fencing, or, in other words, if you are a normal person. Fencers compete in three disciplines at the Olympics: the foil, the epee, and the sabre. While foils are lightweight swords meant for precision pokes, and epees are heavier blades with stiff thrusts, the sabre is the only discipline where points are scored by slashing with the side of the blade, leading to quick, swashbuckling-style exchanges. Aladár Gerevich was a sabre specialist, or sabreur. And although he was dominant as an individual fencer, he claimed the record for most Olympic medals won in the same event in history for two very important reasons. First, there was his impressive longevity as an athlete. Second, there was the fact that in addition to individual fencing competitions, the Olympics have a team component with medals awarded to the overall team winners. And in the Olympic event known as "Sabre - Team", Aladár Gerevich and his Team Hungary were the Michael Jordan Dream Team of mid-20th century Olympic sabre fencing.
Gerevich didn't win any individual medals in Los Angeles, but his Team Hungary did pick up the Sabre Team gold. Four years later at the Berlin games, he racked up another Sabre Team gold, plus a bronze in Sabre Individual.
Unfortunately for Gerevich, by the late 1930s, the most important kind of sabre-rattling in Europe was in the political sphere, not on the fencing piste. Not to spoil anything if you're halfway through your eighth grade history textbook, but by 1939, war had broken out across the continent. The scheduled 1940 and 1944 games, when Gerevich would have been at the ages of 32 and 36 respectively, were cancelled. Gerevich's homeland of Hungary was ravaged at the hands of the Nazi, and later languished under the thumb of Soviet influence for decades. All of this makes Gerevich's Olympic record all the more impressive: he missed out on two Olympics in his peak competitive years, but he was far from finished.
1948, London: with the Olympics resumed, not only did Gerevich keep his streak of Sabre Team gold medals alive, he also won the gold in Sabre Individual.
1952, Helsinki: now 42 years old, Gerevich and his team pick up another ubiquitous Sabre Team gold to add to the mantel. He also grabs a silver in Sabre Individual for good measure.
1956, Melbourne: amidst a violent revolution in his homeland of Hungary, Gerevich shows no signs of slowing. He straps on the mesh mask once again, and his Team Hungary wins another Sabre Team gold.
Finally, the year is 1960. Aladár Gerevich is now fifty years old. Let me repeat that again: fifty. You've probably heard a few vaguely-inspiring stories of middle-aged athletes still competing in the Olympics, likely in the large-print pages of Reader's Digest. Those elderly athletes are almost always involved in something like skeet shooting, or curling, or equestrian. Their old, brittle bones are holding on for dear life on top of a million-dollar dressage thoroughbred. They're not engaged in fucking swordfights with people half their age at a world championship level.
The Hungarian fencing federation weren't about to send a 50-year-old to the Olympics to be on their fencing team. What did Aladár Gerevich do? The only thing a born swordfighter could do: he fought his way onto the team. With his lantern-like jaw clenched tight, thick eyebrows furrowed, his sabre's hilt clenched between his grizzled old-man knuckles, his breath probably reeking of Unicum and paprikash, he challenged every single top-ranked fencer in Hungary on the team to a match. And he beat every single one of them, to earn his spot on the team.
At the 1960 Olympic Games in Rome, Aladár Gerevich's Team Hungary won a gold medal in the Sabre Team event.
If you're keeping track, that's six gold medals in the same event at six different Olympic games. His first and last gold medal spanned a 28-year gap, and 3 Hungarian regime changes.
So there you have it, anonymous online question-asker. You wanted to know who won the most Olympic medals in one event. The answer is Aladár Gerevich, Hungary, b. 1910, d. 1991. The event was Sabre Team, and all of the medals were Gold. You're welcome.
---
THE FIVE-MEDAL CLUB:
While trolling Wikipedia to research this question, I ran into a lot of really impressive Olympic streaks. While Gerevich reigns supreme with 6, here are the Olympians who managed 5 medals in the same event:
Edoardo Mangiarotti, Italy
Team Epée: 1936 (Gold), 1948 (Silver), 1952 (Gold), 1956 (Gold), 1960 (Gold).
Alright, so this basically mirrors Gerevich's record, except instead of the dominant Hungarian sabre team, Mangiarotti competed on Italy's dominant epee team of the same time period. Also, Mangiarotti was pretty handy with a foil too, winning 4 separate Olympic medals in the Team Foil event. Except Mangiarotti participated in one fewer Olympics than Gerevich, and one of his medals was a mere silver, making him forever inferior to Gerevich in my books. You suck, Mangiarotti.
Reiner Klimke, Germany
Equestion - Dressage: 1964 (Gold), 1968 (Gold), 1976 (Gold), 1984 (Gold), 1988 (Gold).
Dressage is the one where you make a horse dance. This should not even count.
Pál Kovács, Hungary
Team Sabre: 1936 (Gold), 1948 (Gold), 1952 (Gold), 1956 (Gold), 1960 (Gold).
Well, yeah, go figure, he was Gerevich's teammate. Again, lacking that crucial sixth Olympic appearance to secure his place in sports infamy. Sorry, Pal.
THE ALSO-RANS
Literally anyone can win 4 Olympic medals in the same event. How hard can it be to dominate your sport for 12 straight years, barring injuries or world wars? Here are some of the more notable ones, excluding horsey-dancers this time.
Carl Lewis, USA
Long Jump: 1984 (Gold), 1988 (Gold), 1992 (Gold), 1996 (Gold).
As impressive as it is to dominate at fighting people with sabres for 28 years, how 'bout Carl fucking Lewis? My long-jump career peaked between the ages of 16 and 17, I can't even imagine winning four consecutive Olympic gold medals over a 12-year period at a track & field event. Here's the heartbreaking part: he had a shot at 5 straight, as he was 5th in world rankings at long jump in 1980, when the US boycotted the Moscow games. Carl Lewis had a chance at being the Reiner Klimke of track & field. Goddamn communism.

Jenny Thompson, USA
4 x 100 m Freestyle Relay: 1992 (Gold), 1996 (Gold), 2000 (Gold), 2004 (Silver)
4 x 100 m Medley Relay: 1992 (Gold), 1996 (Gold), 2000 (Gold), 2004 (Silver)
Pretty impressive, Thompson: the ol' double-fourpeat-at-the-four-by.

Birgit Fischer, East Germany / Germany
Kayaking - 500m K4: 1988 (Gold), 1992 (Silver), 1992 (Gold), 1996 (Gold), 2004 (Gold)
Fischer won an impressive 10 medals in 4 different events at 6 different Olympic games. She could have very easily made it seven games, if it weren't for the Eastern Bloc boycott of the 1984 Los Angeles games. Goddamn capitalism.

Gert Fredriksson, Sweden
Kayaking - 1000m K1: 1948 (Gold), 1952 (Gold), 1956 (Gold), 1960 (Bronze)
I guess Gert is a man's name?


Steve Redgrave, UK
Doesn't even make this list. Sure, he makes it onto a lot of sloppily-compiled Most-Decorated Olympian lists I came across in my research, based on the fact that he won 5 consecutive gold medals at 5 different Olympics, great, big deal. But three were in Coxless Pair, one was Coxed Four, and one was Coxless Four! We're looking for the same single event, Redgrave! Get your cox straight. Christ.
---
IN CONCLUSION:
Is Aladár Gerevich the greatest Olympian of all time? I have no idea. Probably not. But he'll always be the answer to a trivia question. And for a deceased Hungarian fencer, that's probably all that you can ask for.