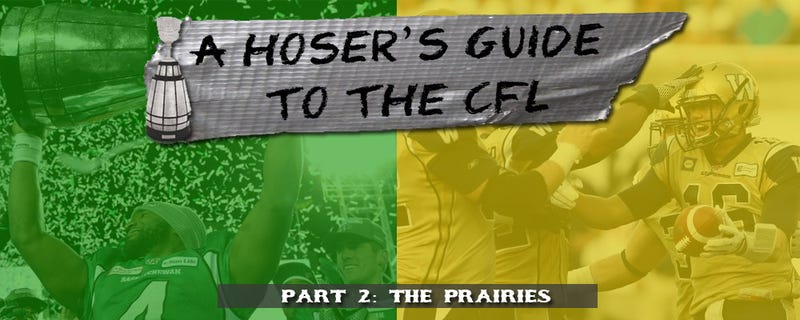 [This is part 2 of the Hoser's Guide to the CFL. For part 1, covering the 4 teams of the East, click here.]

Oh, LOOK WHO FINALLY SHOWS UP WITH PART TWO.
Yeah. Sorry about that. I've... I've been busy. After part 1 of my 2014 CFL preview, you probably expected part 2 would have followed on its heels within the next day or two. That's alright - you were just wrong about that, is all.
I guess this isn't really a season preview anymore, is it? We're already well into the season. A full three weeks worth of games have been played, storylines have been created, and the tens upon tens of people who read the initial preview to the East Division have been anxiously fidgeting in their seats, refreshing the Plaidspin homepage daily, waiting for the West preview. And there hasn't been one yet, probably because of TYPICAL EAST COAST BIAS IGNORING THE WEST.
"How can I start watching the 2014 CFL season when I have no goddamn idea who half of the teams are, because no preview article was there to properly inform me?", loyal readers from around the world have been saying, probably.
Well worry no more, faithful fan of three-down pigskin: here's the long-awaited sequel. Like most sequels, it's significantly delayed and lacking in fleshed-out storylines. That's because everyone commented that Part 1 was way too goddamn long. (THANKS, TIPS. I KNOW IT WAS LONG. That's why you're only getting 2 teams this time.)
Hey, before we start... do you remember that patriotic CFL history video you showed me in Part 1, full of charming Canadian pop-rock, gritty black & white footage of square-jawed Canadians smashing each other into the mud, and deliriously drunk old-timey fans?
Sure do.
See, I need some pumping-up to get back into that CFL spirit. I can't just jump into another CFL preview bone-dry, I need another hit of that sweet, patriotic shit that hits you right in the heartstrings.
I gotcha. Here's another CFL-produced video to warm you up, this time focused around the league's ultimate prize, the Grey Cup. Also, it's set to the Tragically Hip. Enjoy!
That did the trick! I am now, officially, ready for some footbaaaaall.
Well put on your denim jacket and trucker hat, stick a Trooper cassette into your rusted-out Camaro's tape-deck, and pour yourself a rye & ginger, because today, we're digging into the league's REAL fans. The beating heart of the CFL: the West Division, starting with two central teams, Winnipeg and Saskatchewan.
Welcome to hoser country.
---
THE WINNIPEG BLUE BOMBERS
Team Name: Founded in 1930, the Winnipeg football club eventually took on the nickname "the Blue Bombers" following a newspaper writer's suggestion in 1936, based on their blue uniforms and boxer Joe Louis' nickname, "the Brown Bomber." In 1935 they became the first Western-based team to win the Grey Cup, which had traditionally been won by the league's Eastern powerhouses.
In the 1950s, Labatt Breweries was a major sponsor of the team, and in turn Winnipeg fans played a part in nicknaming the brewery's signature beer "Labatt Blue" after the "Blue" Bombers. So the next time you're stuck sucking back a bottle of Blue, you can blame this team.
DIVISION:
This year, the Bombers moved from the East Division (more like least division) back to the West Division (more like best division) to accommodate the expansion Ottawa REDBLACKS joining the East. This move is less than ideal for the Bombers. Much like the current NBA or NHL, the teams in the CFL's East are - unfairly or not - generally seen as the whipping-boys of the superior West. Not to mention that there are 5 teams in the West compared to only 4 in the East, although the playoff crossover rules help mitigate the disparity.
Winnipeg is used to changing divisions, though. As the rough middle of the country, they tend to keep getting passed from the West to the East like they were Provincial Transfer Payments. The Blue Bombers' recent division history: West Division (1980–1986), East Division (1987–1995), North Division (1995), West Division (1996), East Division (1997–2001), West Division (2002–2005), East Division (2006–2013), West Division (2014–). Welcome back to the West, Bombers. Hope you like losing to good teams.
2013 Record: 3-15, dead last in the East. [prolonged farting noise]
2014 So Far: 3-1. That is not a typo. The historically woeful Bombers, who essentially rolled over and died like a diseased old dog in 2013, have a strong winning record in 2014. Last year, you know how long it took them to get 3 wins? The whole fucking season. This year, they already went 3-0 in their first 3 games! Sure, one win was against the expansion ALL-CAPS REDBLACKS, but they also chalked up wins against the not-exactly-pushover Argos and Als, despite an ugly loss to their only West Division opponent so far, the Eskies.
The Bombers are one of the biggest surprises of the early CFL season. And, like any other instance where a team that's expected to be sucking on exhaust starts suddenly leading the pack, no one is really taking them seriously just yet. The Bombers CAN'T be good - being good isn't in their sad-sack DNA.
Everyone in the CFL is just patiently waiting for the wheels to fall off this truck.
Then again, if they were a truck that still had wheels parked in Winnipeg, it's probably already been stolen by now.
STADIUM:
Investers Group Field, opened last year, still has that new-stadium smell. It's shiny and modern and pleasant, unlike most of Winnipeg, which is basically like Fargo with more car theft and meth.
OK, fine – Winnipeg isn't a TOTAL disaster. There's a stretch around the downtown core and the Forks that's nice, where you can find all of the city's restaurants and cultural hot spots and places where you might not get stabbed. But for the most part, we're talking about a blighted, frostbitten concrete hellscape, ruled over by an alliance between the roving gangs of bathsalt-huffing teenagers and the swarms of gigantic bloodthirsty mosquitoes.
Winnipeg is constantly the butt of jokes, and for good reason. It's minus-5,000 degrees every single day in Winnipeg past October. Not just a generic dry cold, but that sort of blistering, wind-whipping cold that makes your ears throb and your snot freeze. In turn, the people of Winnipeg have become a feral race of mole-people, moving downtown from building to building via an intricate system of tunnels. If you are exposed to Winnipeg for longer than 8 seconds in the winter, you will die, from exposure.
Unless you drink a shit-ton of booze to make you artificially warm, in which case, you're probably at a Blue Bombers game.
FANS:
Despite living in a Winterfell-esque backwards nightmare world, most Winnipeggers (the ones who aren't in jail for stabbings) are an affable, friendly bunch. Not confrontational like Stamps fans or nauseating like Riders fans, Bombers fans just seem like a good-natured bunch of buddies who can gather around their shitty football team, get drunk and have some fun.
And isn't that what the CFL is all about? (Having fun, not getting drunk.) (OK, maybe the CFL is about both.)
ASSORTED BOMBERS LORE:
1) Beer cup snakes! Bombers fans, through a combination of both terrible teams and being Manitobans, are natural alcoholics. Not even that fun, "I'm the fat guy with a goatee and a Hawaiian shirt at the kegger, watch me chug a bottle of Fireball!" type of alcoholic. Just a really casual, uncelebrated "my life is garbage and I drink a lot, let's not talk about it" type of alcoholic.
Because of this, Bombers fans consume a lot of beer at games. And to celebrate that... accomplishment?... the Bombers' tradition of building BEER SNAKES was born! A beer snake is when you stack all of your empty plastic cups together and snake it through the stands, with the snake getting gradually larger as it goes. They weren't the first group of fans to think of this, but they've definitely taken it to new levels:
Of course, the team is now trying to distance themselves from this awesome act of destructive binge drinking, and has tried to ban the beer snake. BOOO! What the fuck are they supposed to do - put those empty cups in the recycling bin? Then how will viewers at home know how drunk they are??
2) The Banjo Bowl: As far as I'm concerned, one of the best rivalry games in all of sports happens each year between Saskatchewan and Winnipeg. Not because it's that important of a game, but just because the entire idea of this "bowl" originates from a hilarious burn from a Bombers player.
The year is 2003. Troy Westwood, Winnipeg Blue Bombers placekicker, is asked about an upcoming game against the rival Saskatchewan Roughriders. In his response, he calls Saskatchewan "a bunch of banjo-pickin' inbreds." Damn, son.
Later, he finds himself surrounded by reporters looking for a follow-up. What comes next from Troy is an all-time shutdown line. "I had referred to the people of Saskatchewan as a bunch of banjo-picking inbreds. I was wrong to make such a statement, and I'd like to apologize... The vast majority of the people in Saskatchewan have no idea how to play the banjo" [SOUND OF EXPLOSION]
This is one of the best burns in the history of athletic rivalries. Now, Saskatchewan fans, being the BEST FANS IN SPORTS™, made a bit of a self-deprecating joke out of this - at the next rivalry game between Saskatchewan and Winnipeg, Saskatchewan fans showed up to the game strapped with actual banjos, in jest. From that point on, the annual Banjo Bowl was born. Since then, it's grown in popularity every year. Here's the Premier (American readers: "Governor") of Saskatchewan playing a banjo in support of the annual game, somewhat ignoring the fact that the initial gist of the joke was calling people from Saskatchewan "a bunch of inbreds", and not seriously calling out their banjo-playing abilities.
3) Swaggerville: Bombers fans tried to call themselves "Swaggerville" a few years ago, after a surprise Grey Cup appearance. Here's just a general tip in life: never try to give yourself a nickname, especially if that nickname involves "swagger". For some reason, the Bombers took their dumb, self-imposed nickname really seriously, even opining that haters who didn't like the name "Swaggerville" were just jealous that they didn't come up with the nickname first. Yeah, that's it.
THE TEAM:
Mike O'Shea was a CFL player as recently as 2009. Now he's the rookie head coach of the Bombers, entering into a dysfunctional organization with a revolving-door of a front office. And somehow, he's used his magical coaching powers to turn the Bombers into a team of scrappy go-getters who just know how to win, baby! Or at least, that's the narrative out of Winnipeg.
QUARTERBACK: Quarterback Drew Willy has spent most of his pro career on NFL practice squads - the Ravens, the Colts, the Jets, the Chargers - before finally coming north. He saw some time as a backup with the Roughriders over the past few years before being traded to Winnipeg this season. Even though everyone was predicting another tire-fire of a season on offense, Willy's looked downright comfortable so far this year, connecting with his targets and moving the ball aggressively. He's got some quickness for a big ol' dopey-lookin' guy (kind of a longer-faced older brother of Drew Magary vibe, or is it just me?), and although he won't run for much, he's got an arm on him and can pick his targets well.
Also on the QB roster but unlikely to receive a snap: from the where-are-they-now file, it's Josh Portis! Former Seahawks QB, cousin of Clinton, former NCAA Div II Player of the Year, later charged with fraud for using a stolen credit card at a mall, and then charged with a DUI arrest... Josh Portis!
OFFENSE: After a breakout season with the Lions last year that saw him finish third in the league in receiving yards, SB Nick Moore was probably the most desirable free agent on the market this past offseason. After getting picked up by the Bombers, he's been exactly the explosive force they needed. Moore joins another SB threat on the team, big man Cory Watson, although Watson's currently sidelined with an injury. And although Willy's been relying a lot on the passing game so far this season, rookie RB Nic Grigsby can also light it up when they need a rusher.
DEFENSE: Even as the offense collected weapons, it seemed like the defense would be in flux all year. In the offseason, last season's leading tackler and 2013 East Divison Outstanding Canadian player LB Henoc Muamba jumped ship for the NFL to join the Colts. Meanwhile, DE Alex Hall, who had a solid 15 sacks last season, jumped ship for the Carolina Panthers. Turncoats be damned! The Bombers managed to find replacements, and have looked decent on defense so far. The secondary has young guys like Matt Bucknor, Desmond Washington and Bruce Johnson all racking up tackles, while up front DE Jason Vega, coming back north after a season spent with the Cowboys, already has a couple sacks this year.
Still, though. They're the Bombers. Who knows when this entire defense might collapse like a shitty house of cards, dragging the team back down to the cellar.
"LEAST BADASS-SOUNDING NAME ON THE ROSTER" AWARD: Paris Cotton, RB.
MS PAINT DRAWING OF A TYPICAL BOMBERS FAN:
When will my misery end. Please. Somebody kill me.
---
THE SASKATCHEWAN ROUGHRIDERS
2013 Season: 11-7, won the Grey Cup in triumphant fashion.
2014 So Far: A mediocre 1-2. Booo! Burn down the stadium! Kidnap the coach!!
STADIUM: Mosaic Stadium. Taste the rainbow.
FANS: Fans? Hmm... yeah, they've got some.
COME ON, LET LOOSE, TELL US ABOUT RIDER FANS!: Their fans like going to football games.
BUT WE'RE THE RIDER NATION! THE BEST FANBASE IN SPORTS! LET'S GO RI-DERS!: Oh for fuck's sake, fine. Let's talk about the big, self-absorbed circus that is Rider Nation.
For starters, to understand Riders fans, you need to understand Saskatchewan. It's actually impressive how many Americans know of Saskatchewan. Ask an American (a garden-variety American, not some clever trivia-geek American) to name Canadian provinces, and it will generally go: "Well let's see, there's Quebec... uh, Toronto?... oh, Saskatchewan!" It's a province that's probably most popular abroad for having a funny name, and it doesn't hurt that its capital, Regina, where the Riders call home, has a name that rhymes with a funny name.
Within Canada, though, Saskatchewan is famous for three things:
Wheat. Saskatchewan is Canada's breadbasket, famous for its endless acres of golden wheat blowing in the prairie breeze. And, increasingly, Saskatchewan's also our mineral-basket. Formerly known as a province of poor, dirty farmers, Saskatchewan's economic fortunes have blown up recently between oil and mining and whatever the fuck potash is. Saskatchewan is the world's leading exporter of potash. Call me a dumb city-slicker elitist, but I don't think I'd recognize potash if I tripped over it. Can I even trip over it? Is it like a rock or a powder or what? Anyways, now instead of being a big square province full of hicks, it's a big square province full of POTASH-RICH hicks.
Being flat. There are no mountains, no hills, barely any trees - just miles and miles of flat, featureless prairie fields. If your dog runs away in Saskatchewan, you'll still be able to see him for three days (old joke!) This is what it looks like when you drive through Saskatchewan. Just so much nothing.
Being insane CFL fans.
There are other good CFL markets, but in Saskatchewan, they treat this shit quasi-religiously. Even Peter King knows how big the Riders are in their home province. In fact, it's the only part of the country where you could make a legitimate claim that hockey isn't the dominant sport. Roughriders fans are mobilized, loud, passionate - all of the things that make the league great, but that also make other teams hate their guts.
The Saskatchewan Roughriders are essentially the legitimate football-based front for what is otherwise a quasi-religious regional cult. On gameday, Regina shuts down and the whole town turns green. Not just wearing their Darian Durant replica jersey. We're talking costumes. Even in the freezing cold, there'll be jackasses in lime-green morphsuits, waving Riders flags and wearing watermelons on their heads, staying warm only by the grace of 6 tallboy cans of Pilsner. (Old-Style Pilsner's a local Saskatchewan beer, and only people in Saskatchewan are born with the specific genetic mutation that lets them swallow it without gagging. Pilsen, Czech Republic should sue for defamation.)
Look, I get it. If I lived in Regina, and therefore didn't have a hell of a lot else to do with my life, I guess I'd dedicate it to football fandom too. (Call it the "Green Bay Rule" of small-town fandom.) It's just strange that most of the country treats the CFL as a bit of a sidedish, while in one odd rectangular-shaped part in the middle, it's their entire meal.
You ever have a conversation between a bunch of people who all like something, and then there's that one guy who's OBSESSED with it that just ruins the whole conversation? Say a bunch of people will be casually talking about the new Star Wars movie at a party, when that one socially-awkward fanboy butts in, jumping off into a 15-minute rant about some expanded-universe obscure Jedi bullshit. And the whole time you're standing there, it kinda turns you off ever bringing up Star Wars in public again. Yeah. That's Riders fans.
"I like the CFL", Edmonton will say at a party. "Me too I went to a game last year it was pretty fun" adds Montreal. "I WILL DIE FOR RIDER NATION" screams Saskatchewan, showing you the 13th Man tattoo on his ass cheek before smashing a bottle over his face as he recites the names of every player on the 1989 Grey Cup team.
OWNERSHIP:
Also not unlike the Packers, the Riders are fan-owned as a public corporation. If you're a fan, you can buy a share in the team! Shares cost $250, they can't be resold, you can't own more than 20, and they have no dividend or growth potential. And for some reason, they've managed to sell thousands of these useless "shares". If this were a real company and not a football team, they would be shut down by securities regulators for operating a massive, transparent pyramid scam. But hey, it's just a meaningless $250 piece of paper with your name on it, who cares when you're rich off POTASH!
Then again, finding investors in Saskatchewan can be tough. I mean, it's not like there's a lot of math whizzes in the province. Their own football team can't even count to twelve. BOOM!

Note for unfamiliar readers: what just happened was a sick roast at the expense of the Roughriders. It's also kind of a tired and played-out punchline, but it will never stop being funny in my mind, much like Jeter giftbasket jokes or Eagles-fans-assaulting-Santa-Claus jokes. You simply cannot bring up the Roughriders without bringing up the 13th Man incident.
THE 13TH MAN:
It's the most infamous moment in recent CFL history, and one of the most insane moments I've ever seen in sports. The scene was the 2009 Grey Cup between the Roughriders and Montreal Alouettes. Here, I'll liberally copy from the Wikipedia description of what happened in the last 5 seconds of play. Riders fans, go ahead and skip this part - you know what happened.
With Montreal trailing 27-25, Montreal kicker Damon Duval missed wide right on a 43-yard field goal attempt that could have given Montreal the victory. Saskatchewan's Jason Armstead returned the missed field goal kick from inside the Saskatchewan endzone to the Saskatchewan 6-yard-line and kneeled to end the play, at which point Saskatchewan players began to celebrate what they thought was a win. However, Saskatchewan had thirteen players on the field during the Montreal field goal attempt, and referee Glen Johnson made the call of, "Illegal substitution, too many men on the field, Saskatchewan. It's a ten yard penalty, we'll repeat first down". With Saskatchewan's 10-yard penalty for too many men on the field, the Alouettes moved to the Saskatchewan 26-yard-line with 0:00 on the clock (a game cannot end with a defensive penalty) and attempted a 33-yard field goal for the win on the following play. Duval converted the 33-yard field goal to score three points for a 28-27 Montreal victory.
The descriptions alone can't describe how insane it was. The Roughriders celebrated the Grey Cup that they thought they'd won, only to lose it on a silly technicality, on account of the fact that they couldn't count to 12 properly. Riders fans often call themselves the "13th man", but this time, a literal 13th man fucked them out of a championship with 0:00 remaining on the clock. That's some Alanis Morissette-level irony.
If you're interested, and you've got some time, here's a whole really well-made documentary on the 13th man - both the infamous Grey Cup play, and how insanely dedicated Riders fans are as a whole. (On a sidenote, God bless TSN for producing stuff like this - without the partnership of TSN, the league would honestly collapse.)
MASCOT:
Gainer the Gopher is the mascot of the Roughriders, and is also a piece of shit. Fuck you, Gainer the Gopher. Fuck your being honoured by the Saskatchewan legislature, fuck you for being in charge of deciding country music festival lineups, fuck you and your species taxonomy.
THE TEAM:
OFFENSE: After winning the Grey Cup on home soil last season, it will be hard for the Riders to re-capture that high. Especially since a couple of their best players took a Greyhound due south this past off-season.
You won't be making WR Weston Dressler's bed anymore, creepy stalker lady - he's bolted for the NFL, signing with the Chiefs.
Standout RB Kory Sheets, the 2013 Grey Cup MVP, also migrated south as he signed with the Raiders. Sheets may have been the team's best all-around offensive weapon last year, finishing the season with 1,598 rushing yards.
At least stalwart veteran QB Darian Durant is back! Durant is one of the best quarterbacks in the league - he was cut from the NFL as he was considered undersized, but in the CFL he's blossomed as a versatile rushing and passing QB who's become so popular in Regina that he has his own goddamn line of pickup trucks.
Being the Riders' QB is no easy task - win them a Grey Cup and they build you a statue, toss a pick and they eat you alive. The only two jobs in Canadians sports under more intense scrutiny are starting Leafs goalie and Don Cherry's tailor. Durant can handle the pressure, though - even when the pass game isn't working on a given day, he's always a threat just to call his own number and run the ball home.
SB Chris Getzlaf is a tough receiving threat, and although he's not always the first option, he's known for getting free and racking up big gains at least a couple times per game. Minor note: you might know his brother, Ryan! He decided to play hockey instead of football, and now earns $6.5 million a year. Chris, as a CFL star, makes $120K. I'm sure mom and pop Getzlaf love both sons equally.
Taj Smith is another quick WR who can beat you on the outside, or, if that fails, beat you outside of a nightclub.
DEFENSE: DE John Chick is a rock on defense. He was named the CFL's Oustanding Defensive Player in 2009 before trying his luck down south, where he played a couple seasons with the Jaguars before coming back to the Riders. So far, in 3 games this season, he has 4 sacks. Easy-to-root-for human interest sidenote: Chick's a type-1 diabetic and wears an insulin pump at all times.
Another tidbit for you: while at college studying entrepreneurship, Canadian DE Shomari Williams founded his own athletic database company that basically works as a LinkedIn between Canadian high school athletes and recruiters.
Safety Tyron Brackenridge was named the hardest hitter in the CFL in 2013. He pulled the exact same career move as John Chick: he played (and occasionally started) for the Jaguars for a couple seasons from 2009-2010, and then when he got cut, he went to the Riders. I guess if you're going to crack any NFL team's roster, it's the Jaguars.
Even though they're dependable up front and at safety, linebacker seems like a weak spot. They lost three LB's in the offseason, and have sprinkled in a few young non-import guys to fill the gaps.
"MOST BADASS-SOUNDING NAME ON THE ROSTER" AWARD: Macho Harris, DB.
MS PAINT DRAWING OF A TYPICAL RIDERS FAN:
THIS IS ALL I HAVE TO LIVE FOR! WOOOOOOOH!
---
That's all for part 2. If part 3 ever comes, it will cover the remaining three teams: BC, Edmonton and Calgary. Complain in the comments about how wrong I am about everything, Riders fans!