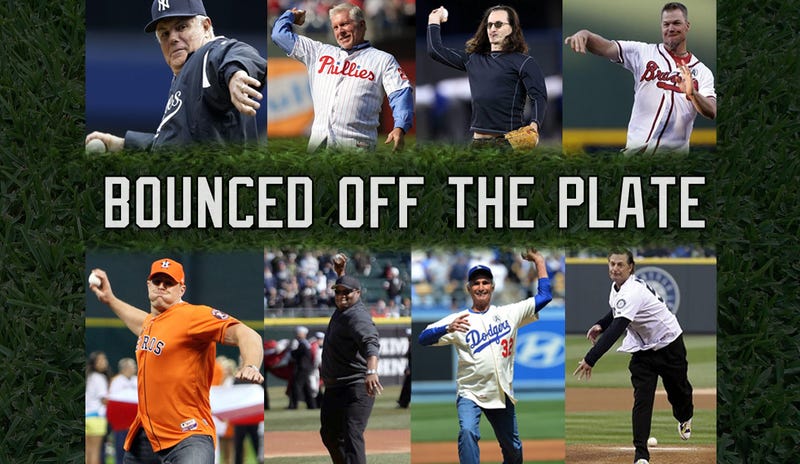 If there's one day that all 30 MLB teams can agree is awesome, it's the Home Opener. For the league's perpetual winners, it's a day of pomp, circumstance, renewed expectations, and maybe even some cool-ass fireworks as they announce the lineup. For the perpetual losers, it's a new dawn, a fresh slate, the start of a new campaign with... whoever the hell these guys are? When did we sign a new second baseman? Where'd whatshisface go? We traded him in December? Anyways, the Home Opener is a day steeped in tradition, and no tradition is as important as the Ceremonial First Pitch.
There's something about the ceremonial first pitch that just makes a crowd feel warm and fuzzy. Not just any old ceremonial first pitch on a Tuesday in July, where every regional Toyota sales manager and wack-pack personality from the Rick Dawg & Fart Boy Local Radio Morning Zoo are trotted out before the game to toss a meatball that bounces two feet short of the plate. Oh no. This is the Home Opener Ceremonial First Pitch. The first baseball to cross the mystical threshold of home plate, like popping the cherry on a magical 162-game summer. You can't just have anyone throw out the ceremonial first pitch at the Home Opener. That person's pitch will set the tone for the entire season. You need to make it count.
Now that every team has played their first game in front of their own obliterated-drunk, impossible-to-please fanbase for the 2013 season, all 30 ceremonial first pitches have been thrown. Since pretty much everyone other than recently-retired pitchers ends up either bouncing the ball off the dirt or sending it wild by 5 feet, I'll be judging solely based on who the team selected to do the honors, not on pitching accuracy.
MY CRITERIA: Is the person locally-beloved, pulling right at the heartstrings of what it means to be a fan of Local City Sports Team? Is the person awesome? Did the team put any goddamn effort into finding this person at all, or did they just make an existing team employee or broadcaster throw out the damn ball? Is the person not just famous, but legendary, someone whose exploits of fire-breathing courage and willpower will set the mood for the entire season just by taking the mound?
THE UNRANKED CONTENDERS
First, let's immediately eliminate four of the 30 from contention:
BOSTON RED SOX: Local cancer patients helped by the Jimmy Fund
MINNESOTA TWINS: Family of slain police officer Tom Decker
TEXAS RANGERS: Robbie Parker, father of Newtown victim
WASHINGTON NATIONALS: Clint Romesha, Iraq/Afghanistan veteran and Medal Of Honor recipient
I'm not touching any of this shit with a 10-foot pole. The last fucking thing I want to be doing right now is contemplating whether Bo Jackson is better or worse on a list when weighed against the chilling, fragile mortality of humankind. Cancer, dead cops, school shootings, war heroes: you're all tied for the rank of Emotionally-Charged Unranked Grab Bag, alright? Now let's move the fuck on.
THE WORST
(26.) COLORADO ROCKIES: They didn't have one.
Are you fucking kidding me, Colorado Rockies? What the fuck is this? It's your HOME OPENER. You can't forgo the ceremonial first pitch, or else, from a ceremonial standpoint, the season has NOT STARTED YET. If the Rockies win the World Series this year, a sweaty and panicked Bud Selig will run onto the field during the celebration, the official MLB Rules clutched in his hands on antique parchment paper, and he'll hurriedly explain that their World Series is revoked because their season never officially started, because no one threw out their first pitch. The Colorado Rockies, as of the time of writing, are 0-0 as far as I'm concerned. (Note: they very well could have had somebody awful and forgettable throw out a first pitch, but I scoured for news articles and blogs, and although it looks like they had a pre-game ceremony for their 20th season, there wasn't a single mention of a ceremonial first pitch. What the hell, Colorado?)
(25.) PITTSBURGH PIRATES: Outgoing PNC Financial CEO Jim Rohr
This is almost as bad as forgetting the ceremonial first pitch completely. A bank executive? A guy with annual earnings of $8.5-million? The exact kind of cigar-chomping Wall Street asshole who fucked up the economy so that none of us broke jagoffs could ever afford MLB tickets? I'm sure that's what a bunch of drunk, self-loathing Yinzer baseball fans wanted to see take the diamond to start their season: some elderly millionaire asshole bouncing the ball thirty feet short of home plate.
(24.) BALTIMORE ORIOLES: No ceremonial first pitch in honor of Earl Weaver
Yes, even "no pitch at all" is better than a bank CEO, as long as you've got a whimsical explanation for the lack of ceremonial first pitch. Was understated elegance really the way to honor Earl Weaver, though? They should've just played this entire video instead.
(23.) OAKLAND ATHLETICS: I.S.A.
Alright, you've got me. I have no fucking idea what any of this means. I mean, I read the entire explanation. I read about how the 80s screwball-comedy Weekend At Bernie's movie series somehow became a dance where you pretend to be a dead guy, and that a rap group called ISA had a song about doing the Bernie Lean, and this became a thing with the A's, and they released a Coco Crisp bobblehead that does the Bernie Lean, and now they had the virtually-unknown rap group ISA themselves throwing the first pitch this year. I mean, I can read that entire explanation, and I understand the meaning of each individual word. But I still have no fucking idea what any of this means.
(22.) CINCINNATI REDS: Joe Torre
"Wh-... wha-...?", you just said in your brain, as your brow furrowed. "Well, I mean on the surface this doesn't make any sense, but I guess he's from Cincinnati...?" He's not. "Am I just forgetting some brief coaching stint he had with the Reds or something?" No. "Then... I mean, I know he played for a few different teams, so I guess at some point he must have been on th-" No. He has never had any professional connection to the Cincinnati Reds. Your first thought was right. Like chili on spaghetti, this does not make any goddamn sense.
(21.) ATLANTA BRAVES: Chipper Jones
Full disclosure: I fucking hate Chipper Jones. And yeah, he's a logical choice after his long and storied career as both an Atlanta Brave and an asshole, but come on - the man's just barely retired. If you play the most recent MLB video game, he's probably still on the Braves roster. Give it a couple years before you bring him back to do the Legends Circuit. Now we get to watch his doughy, dyed-goatee face make the transition to Retired Asshole Chipper Jones, just wearing his old Braves jerseys tucked into his Wranglers all day, appearing on AM radio, shotgunning cans of Miller High Life and falling asleep drunk on his denim-fabric couch watching Storage Wars and licking nacho cheese off of a hunting knife. Fuck everything you stand for, Chipper Jones.
(20.) SAN FRANCISCO GIANTS: Marco Scutaro and Pablo Sandoval
What's even more stupid than having a player who only retired a few months ago delivering your ceremonial first pitch? Players who are CURRENTLY ON THE ACTIVE ROSTER. There's nothing ceremonial about Marco Scutaro throwing a baseball. That's not ceremony. That's him performing his current job duties. That's like announcing that Mariah Carey will be appearing to sing a special, ceremonial opening song to open up a Mariah Carey concert.
THE TOLERABLE
(19.) KANSAS CITY ROYALS: The son of Paul Splittorff
Hm... Splittorff... Splittorff... It's alright, don't rack your brain, I'll tell you. Paul Splittorf was a pitcher from '70-'84 with the Royals. He pitched the first ever game at Kauffman Stadium. He's, um... dead now, apparently. He died a few years ago. His son threw out the first pitch. Good for you, son of Paul Splittorff. Look, it's hard to find celebrities in Kansas City.
(18.) LOS ANGELES ANGELS OF ANAHEIM: Bobby Knoop
Bobby Knoop was a second baseman. He played 5 seasons with the Angels in the 60s. He was a career .236 hitter. As per Baseball-Reference, his career was worth 12.7 WAR. Bobby Knoop is currently an infield assistant coach at a Catholic high school in Arizona. Good for you, Bobby Knoop. Look, it's hard to find celebrities in... Los Angeles.
(17.) MIAMI MARLINS: Jeff Conine and Mike Lowell
As per some local news affiliate shill: "The Marlins added a nice twist to the ceremonial first pitch, forming a relay from left field that involved former Marlins stars Jeff Conine and Mike Lowell. "Mr. Marlin" Conine stood in left and threw toward third base to Lowell, who spun around and threw a strike to catcher Brantly at the plate." Maybe we have different definitions of "nice twist", but that sounds dumb as all hell. The ceremonial first pitch is sacred. You don't start it in left field. That's not a first pitch. That's a live-action recreation of painful memories for long-suffering Marlins fans of opponents hitting the ball deep into the gap and Marlins outfielders desperately trying to heave the ball back into the infield. Goddamnit, Miami. You can't even have a ceremonial first pitch without turning it into a weird feat of self-flagellation.
(16.) SAN DIEGO PADRES: Greg Vaughn
Greg Vaughn was the Vaughn cousin who wasn't Mo. Greg Vaughn hit 50 home runs for the Padres in 1998, somehow, because it was 1998, and anyone could hit 50 home runs. Fun fact: when you Google Greg Vaughn, almost all of the results are about soap opera actor Greg Vaughan.
(15.) TAMPA BAY RAYS: Don Zimmer
Does anyone really want to see this? Don Zimmer is 500 years old and his body looks like a half-ton shipment of marshmallow peeps that was left melting in the sun. Do you really want to see his big, weird, lumpy body contorting itself into a pitching wind-up? I'd be amazed if Don Zimmer can stand up off of a toilet under his own power, let alone throw a ball for a strike. Plus, Zimmer already works for the damn team, so it's not like they really tried too hard to bring in a big name.
(14.) HOUSTON ASTROS: J.J. Watt
I've got nothing against J.J. Watt. The man's a beast. But come on, Astros, you can't just hitch yourself to the Texans' rising star like that. It's your big rebrand year, you've got cute new orange jerseys, it's your AL coming-out party. Bring back some decrepit old legend in a Colt 45s jersey, don't just ask the big boys across the street if you can borrow one of their football players. (And then ask for J.J. Watt after Arian Foster says he's busy.) But I will say, J.J. Watt looks fucking intense delivering a pitch. The Astros should sign him and bring him out as a reliever sometime, just to see him puff up his cheeks and flare his nostrils like an enraged yak with every pitch.
THE SAFE PICKS
(13.) SEATTLE MARINERS: Jamie Moyer
"Jamie Moyer pitches at Mariners home opener." What, as their starter? Come on, he's still got to have something left in the tank. Jamie Moyer can never retire. I refuse to accept this.
(12.) ARIZONA DIAMONDBACKS: Brandon Webb
If you were plotting a chart of 2000s MLB pitchers, with the x-axis denoting how good the pitcher was and the y-axis denoting how forgettable they were, Brandon Webb would be an outlier way up in the upper-right corner, right? If you were doing a Sporcle quiz of 2000s Cy Young winners, he's the name you'd definitely forget, unless you live in the greater Phoenix area. Yes, Brandon Webb really did win a Cy Young award! I know, right!
(11.) ST. LOUIS CARDINALS: Jason Isringhausen and Jim Edmonds
Nothing glaringly bad about this choice - the 2006 World Series was long enough ago, yet recent enough, that it's right in that sweet spot of giving warm-and-fuzzy feelings to 20-something Cards fans - but the whole multiple-pitcher thing's getting played-out. The whole idea of a ceremonial first pitch is that it's one man (or woman, what the hell, can somebody pick a woman for once?) taking the role of The Ceremonial Pitcher, and anointing the game with a solitary, symbolism-laden pitch crossing the threshold of the strikezone into the catcher's mitt. It's a pitch. Not two guys standing side-by-side playing catch with two other dudes huddled on either side of homeplate. If you want to get a bigger pop out of the crowd by having two celebrities instead of one, do what the #1 selection did. (I don't even need to give it away, you already know who the damn #1 is, right?)
(10.) NEW YORK METS: Rusty Staub
Rusty Staub is a lot higher on this list than he probably deserves to be, because Vive Les Expos, al-fucking-right?
(9.) NEW YORK YANKEES: Lou Piniella
Sweet Lou had to travel all the way down from the YES broadcasting booth for this one. I have nothing especially positive, negative or interesting to say about this choice.
(8.) CLEVELAND INDIANS: Father-son multi-throw clusterfuck
Mickey Brantley, Sandy Alomar Sr., Tito Francona, Steve McAllister and Steve Swisher threw to the fruits of their loins who will one day be paying for their nursing home fees: Michael, Sandy Jr., Terry, Zach and Nick. I know, I know, I'm already on the record as hating multi-pitcher first pitches. And gimmicks. And using team employees. And using active players. But... fuck it! That's kind of a cute idea, right? Hey, Tito Francona! Look at that fucking fat wad of chaw, how is he even still alive? Sandy Sr. throwing to his second-favorite son! Wait, Nick Swisher's old man was a ballplayer? Check that dirty flow and 'stache! Dads! Sons! Having a catch! Baseball! AMERICA!
(7.) DETROIT TIGERS: Willie Horton
Willie Horton is a convicted felon who, while serving a sentence for murder, was released on parole and com-waitwhoaaa, okay, wrong Wikipedia redirection there. Willie Horton was a hard-slugging Tigers badass who probably liked his steaks rare, his women thick, his basslines funky and his facial hair oozing manliness. Right on, Willie Horton.
(6.) CHICAGO CUBS: Fergie Jenkins and Billy Williams
Fergie Jenkins rules. Billy Williams rules. There will be no further debate on the matter.


THE AWESOME
(5.) TORONTO BLUE JAYS: Geddy Fuckin' Lee
Your mileage (kilometerage?) might vary on Rush. I'm on the side of the Fuck Yeah, Rush camp. Look, this is just a refreshing choice, alright? In a year where everyone was digging up predictable former-player fossil picks, this is the only "hey, whattayaknow!" local-celebrity pick in the bunch. And Geddy Fuckin' Lee (note: his full name is always properly written with his middle name, "Fuckin") is actually a huge baseball fan, it turns out! And y'know what else, motherfucker? [stares angrily into your eyes while air-strumming the bass riff to YYZ.] Yeah, fucker. Rush.
(4.) MILWAUKEE BREWERS: James Beckum
It's alright if you don't know who James Beckum is. He doesn't even have a Wikipedia page. But I ranked him way higher than he probably should be on this list because this is exactly what your home opener's ceremonial first pitcher should be. James Beckum was a former Negro League player who devoted his post-playing days to helping kids play baseball, and in the 60s he formed the Beckum-Stapleton Little League that's still in operation in Milwaukee to this day. You haven't heard of James Beckum, I haven't. But all of my criteria checkboxes are checked: an important person, engrained in the local community, and a role model that can get your season started on the right foot. Good job, James Beckum, you've officially been put on a list as being more awesome than Geddy Lee.
(3.) CHICAGO WHITE SOX: Bo Jackson
Footage of his ceremonial first pitch here.
(2.) PHILADELPHIA PHILLIES: Mike Schmidt and George Brett (and Joe Piscopo for some reason)
You read that correctly: Mike Schmidt, George Brett and SNL has-been/possibly-never-was Joe Piscopo all threw out ceremonial first pitches at the Phillies game. Why Schmidt? Because he's Phillies as fuck. Why George Brett? Because the Phillies were playing the Royals. (Meanwhile, because they can't even get George Brett, Kansas City was stuck with the nameless son of Paul Splittorff for their home opener.) Why both of them? Because it was a reunion of the two opposing iconic third basemen who faced off in the 1980 Phillies-Royals World Series. For some reason I love the concept: reuniting two legends, representing both teams playing in the game that day, tying it to an actual event instead of just vague nostalgia. And then Joe Piscopo comes out for some reason to throw ANOTHER ceremonial first pitch?? Normally this would be enough to torpedo the whole thing, but for some reason, this whole hot, weird mess just works for me. Congratulations, Philadelphia. You put in a solid #2.
THE BEST
(1.) LOS ANGELES DODGERS: Oh, you want me to tell you the BIG SURPRISE REVEAL? Don't play dumb. You know exactly what happened. You already saw the damn video. You knew this would be #1 all along. Because it was The Best. Watch the fucking thing again.
Dodgers, you actually nailed this shit down. For the other 29 teams in baseball: good job, good effort. I'll see you at the 2014 home opener.